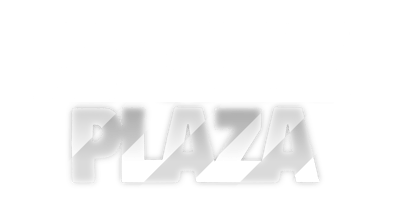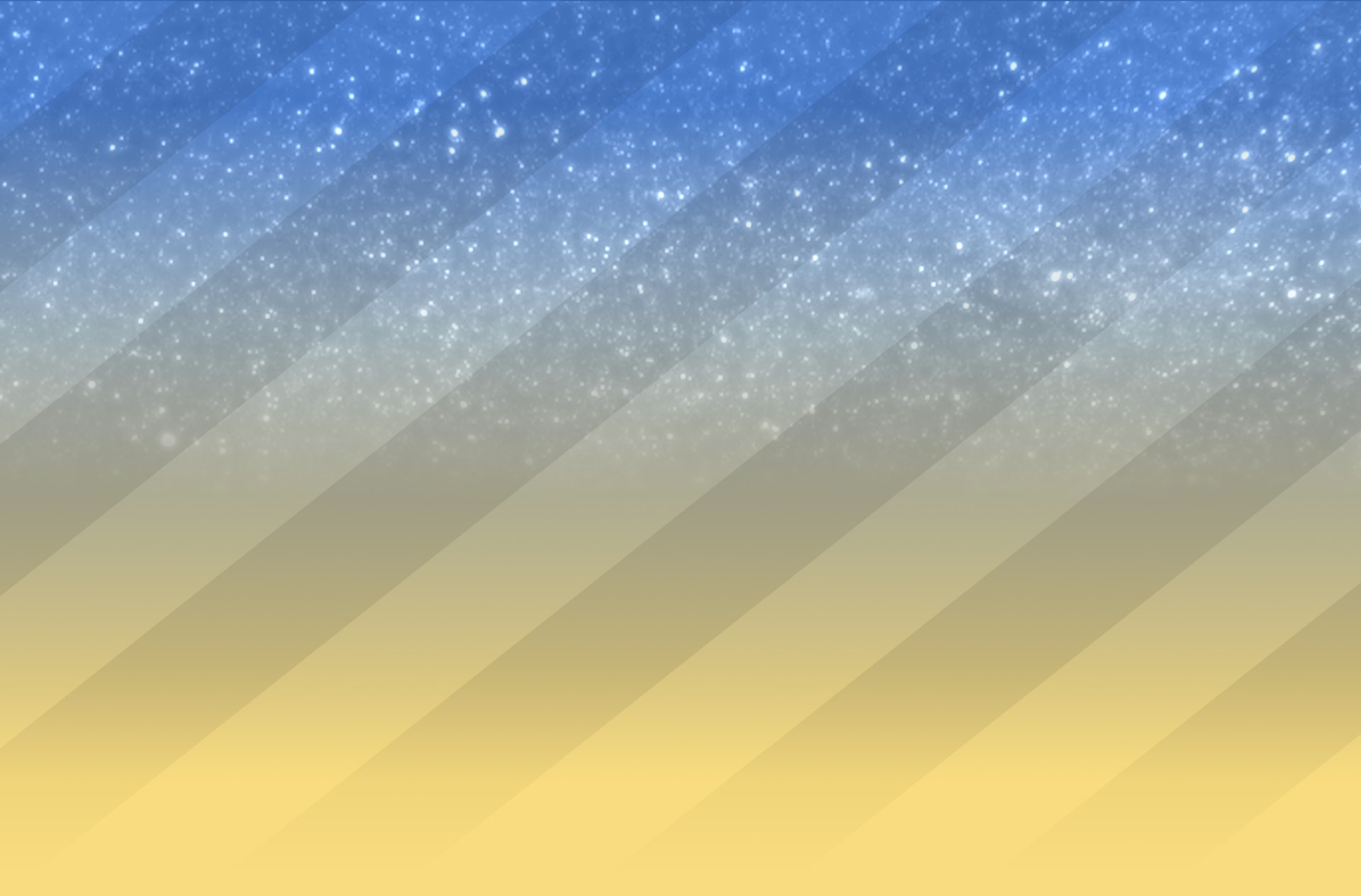 Duel against cute girls to strip them.






$10+
Patreon Version [v0.14]






IT'S TIME TO S-S-S-S-S-STRIP! This is an 18+ Trading Card Game. Collect cards, build the perfect deck, and strip all your opponents! 👙 ⭐ [This demo only contains the Arc duel and two starter decks]
Support STRIP Battle Action Cards on Patreon and access to the newest build!
Progress updates at ArcanePlaza's Twitter,
STRIP Battle Action Cards
Duel your opponents for the right to remain clothed! Beating them means winning cards, which you'll need if you want to challenge harder difficulties!
In this demo, you get to pick from two premade decks: Solo or Duo. Solo will let you try several cards from the Mental faction, while Duo contains cards from both Physical and Magical factions. Each faction has different playstyles, so get used to them and build your dream deck in the full version!
Beating your opponent will let you try out different outfit combos and colors in Gallery mode! All characters will be available in Gallery in the full mode upon defeating them the first time~
Future builds will be available on Patreon to try out new features as they're completed!
Thanks for checking us out everyone! I hope you enjoy! New characters and features will be coming soon~!
FEATURES:
[Full list of features in the final version of the game, est. release Summer 2023]
50+ Unique Cards to make the perfect deck

8+ Opponents each with unique challenges

4 Customizable Decks

5 Difficulty modes

Gallery mode to mix and match outfits and expressions

...and many bug fixes from the Demo version! Your feedback helps improve the game!
CONTROLS:
⭐Drag an Attack card to your opponent's outfit tag to damage them! Make sure you have enough energy to use your Attack card. Energy requirements will be on each Attack card.
⭐Each turn, you gain +1 Mana. Use your Mana to activate Outfit Abilities! Your outfit tags will flash when your Outfit Abilities are ready to use. You may use one Outfit Ability per turn.
⭐If you're out of actions for your turn, hit the End Turn button! Give your opponent a chance while you strategize your next move.
⭐Defeat the Hat, Body, and Legs outfits to reveal her Undies. Defeat her Undies to win the round~!
FUTURE CONTENT:
All future content will be available in the Patreon builds as it's released:
⭐New Opponents - Stella the Magician 🎩, K.C. the Surfer 🏄‍♀️, Aya the Plushie Enthusiast 🐧, Ashe the Cashier 🏪, and more~
⭐Card Collecting - Open packs that you win by defeating opponents!
⭐Deck Building - Customize your decks with your cards to make your perfect deck!
⭐Gallery Mode - Mix and match outfit combos and expressions for each girl you defeat~!
⭐Difficulty Unlocks - Beating a character will unlock harder difficulties to challenge your deck with!
CREDITS:
🎨Character design+art, coding, animation - ArcanePlaza
VOICE ACTRESSES:
🎙KumBomb (Arc)
🎙MissMauveVA (Stella)
🎙MizzPeachy (K.C.)​
🎙PixieWillow​ (Aya)
🎙BakuSatsuHo​ (Syd)
🎙Nami995​ (Mimi)
🎙SpicyBarMaiden​ (Mascot)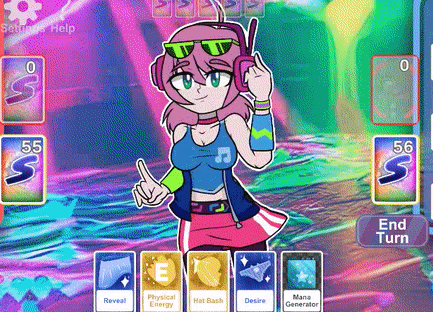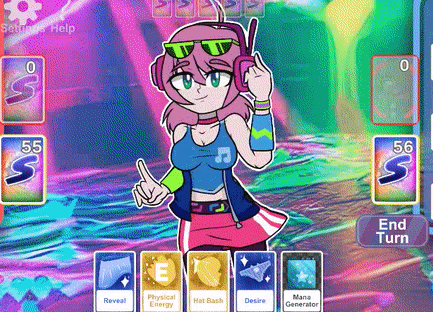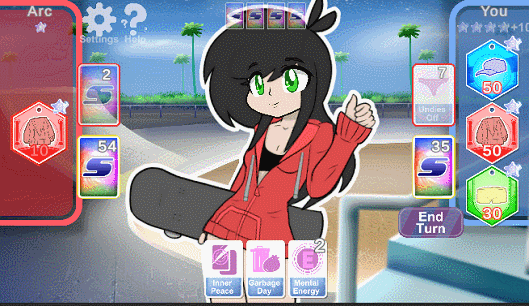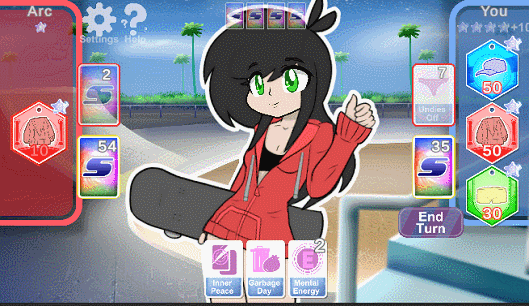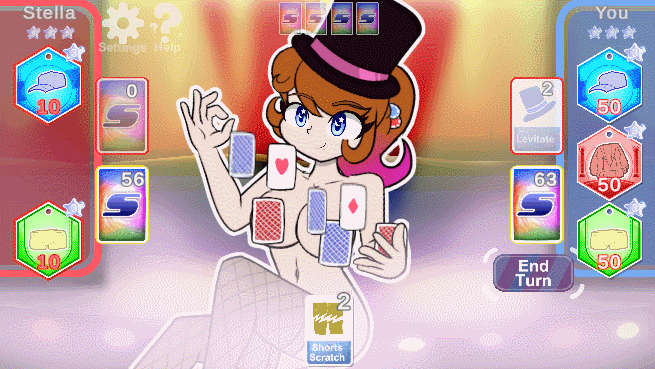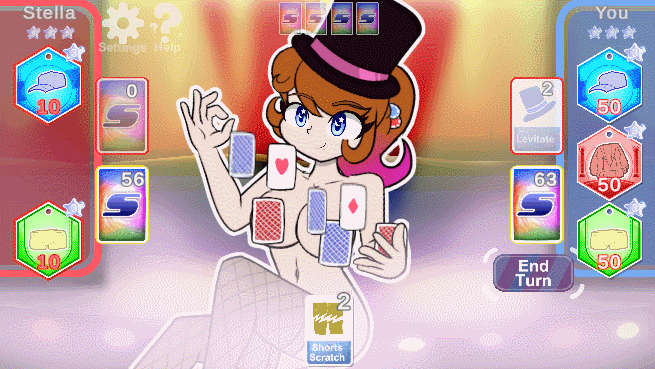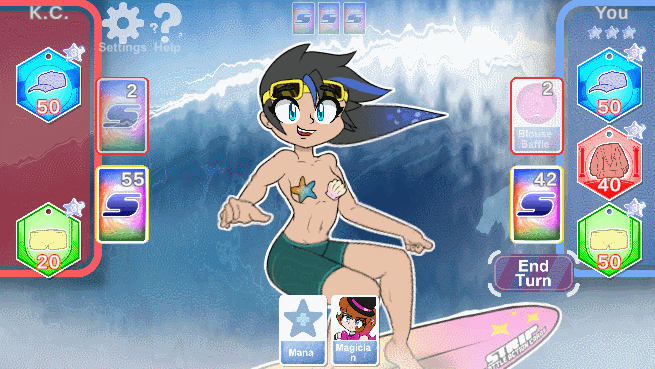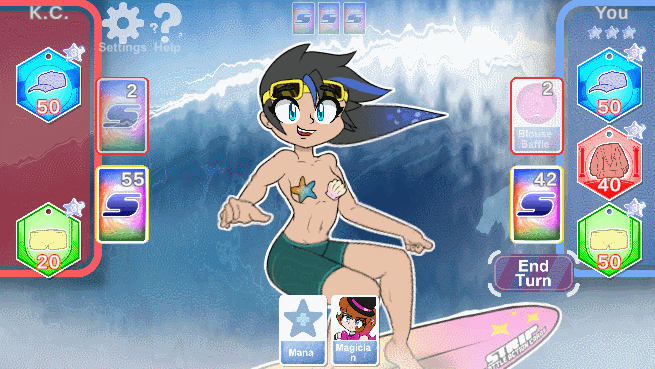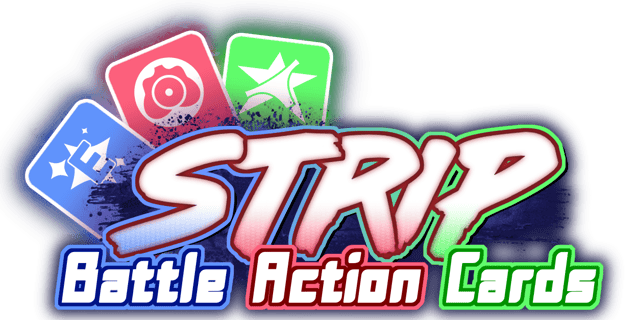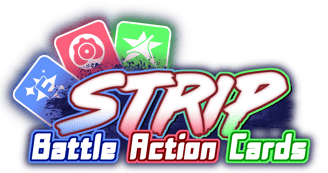 Duel your opponents for the right to remain clothed! Beating them means winning cards, which you'll need if you want to challenge harder difficulties!